French Drain Installation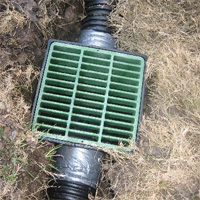 French drains are installed to remove excess water that accumulates in your property's yard, around the foundation, and even below the surface in the soil. These drains are a proven method of collecting water and expelling it into the street where the city's drainage system, or sewer, can take over.
In order to install a French drain, a site analysis must first be performed to determine where water collection needs to take place. If your yard has spots that frequently stay wet and a leak detection company has determined that there are no plumbing or sewer leaks, then a French drain may be necessary in that area because the natural water flow is not happening correctly.
French drains are an important part of foundation failure maintenance because too much water in North Dallas Texas soils will cause the clay to expand and shift your home's foundation. Too much movement, or settlement, will lead to foundation failure and even structural damage.
These drains are installed by digging a trench to the closest street or alley that is graded below the water problem.  Once the trench is dug, Pro-Tech Foundation Repair installs plastic tubing with either a water vent or to gutter down spouts. The trench is then filled with a mixture of dirt and gravel that stabilizes the trench and maintains a proper angle of water flow so that gravity forces into the street or sewer.
Even if your home has not experienced foundation failure, a French drain installation can prevent the thousands of dollars necessary to install foundation piers.
Pro-Tech's French drain installation and consultation experts provide free estimates in following areas: Dallas, Plano, Allen, McKinney, Frisco, Garland, Mesquite, Irving, Grand Prairie, Richardson, Carrolton, Rowlett, Rockwall, Wylie, Sachse, Cedar Hill, DeSoto, Lancaster, Red Oak, Seagoville, Combine, Crandall, Kaufman, Terrell, Addison, Highland Park, University Park, and Farmers Branch. If your city is not listed but is located in Dallas County, Collin County, Rockwall County, Kaufman County, or Denton County, feel free  to schedule a free French drain installation estimate today.