Slab Foundation Repair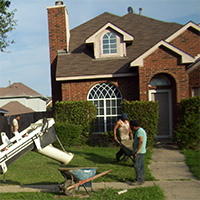 Concrete slab foundation repair might be needed if you have one of the telling warning signs. Do you have cracks forming above door frames and where the ceiling meets the wall? Do some of your doors refuse to close properly? Is your flooring bulging or cracking? Are your windows separating from the bricks? Foundation settlement in North Dallas Texas will eventually lead to structural problems within your home. Fortunately, Pro-Tech has a system of slab foundation repair that will ensure your investment is protected from the unstable soils in the Dallas area.
The movement of slab foundations is called "settlement" and occurs frequently in the Dallas / Fort Worth Metroplex due to unstable clay soil that is prevalent in this area. Clay soil has similar characteristics of a sponge in that during times of drought it will shrink and when there is excess water, it expands rapidly. Extreme drought and rain can cause serious fluctuations in the North Texas soil stability which leads to inevitable foundation failure. If the failure is ignored, major structural damage will occur.
To repair a concrete slab foundation, Pro-Tech Foundation Repair uses a proprietary system of drilled foundation piers that consists of steel reinforced concrete that is designed to hold 3000 PSI once cured.  Once the foundation pier has cured, our foundation experts will level the home in compliance to an independent structural engineer's specifications.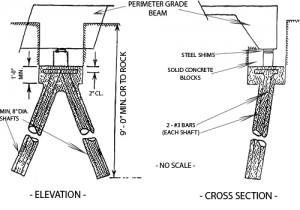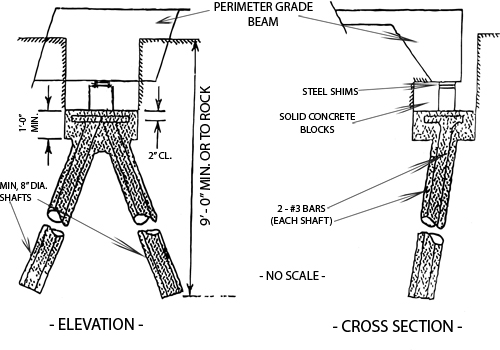 In some cases, interior foundation piers are needed to correct foundation "bowing" that causes uneven flooring and unnatural slopes in the foundation. Once the interior foundation has been corrected with piers, mudjacking is normally recommended to provide further support to the home's foundation.
Whether your home has shifted only a few inches or even a foot, Pro-Tech Foundation Repair can provide a cost effective solution to your foundation problems. The most important aspect is to not ignore the warning signs of foundation failure and have one of our experts inspect your property. We take accurate measurements, provide independent structural engineer contact information, and honestly discuss the foundation repair cost.
Our concrete slab foundation repair service area includes: Dallas, Plano, Allen, McKinney, Frisco, Garland, Mesquite, Irving, Grand Prairie, Richardson, Carrolton, Rowlett, Rockwall, Wylie, Sachse, Cedar Hill, DeSoto, Lancaster, Red Oak, Seagoville, Combine, Crandall, Kaufman, Terrell, Addison, Highland Park, University Park, and Farmers Branch. If your city is not listed but is located in Dallas County, Collin County, Rockwall County, Kaufman County, or Denton County, feel free to contact us to schedule a free foundation repair estimate today.