Pier and Beam Foundation Repair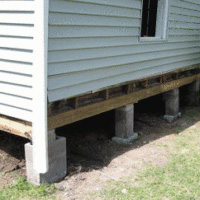 Pier and Beam foundation repair, or sometimes referred to as crawl space foundation repair,  is normally required if you have observed one of the usual warnings signs of foundation failure. Have you have observed cracks that have formed above windows, door frames, and wall corners? Are doors in your home hard to close or refusing to close properly? Have interior floors such as hardwood and tile begun to separate or bulge? If you answered yes to any or all of these questions, it's likely that your pier and beam foundation has failed and is in need of immediate repair. Pro-Tech Foundation Repair is a pier & beam specialist and is one of the few companies in the Dallas area that will complete pier & beam foundation repair.
Over time, soil instability in the North Dallas Texas area causes a home's foundation to shift and move. This movement is referred to as "settlement." Foundation settlement is caused by the extreme weather conditions that are experienced in the North Dallas area of the Dallas / Fort Worth Metroplex. During times of drought, the clay soil beneath our homes becomes dry and shrinks like a sponge. Alternatively, when rain is abundant, the soil expands quickly. Your home's foundation is at severe risk in both scenarios.
To repair pier and beam foundations, Pro-Tech Foundation Repair uses a proprietary system of drilled foundation piers that consists of steel reinforced concrete that are rated at 3000 PSI once cured.  These piers replace or reinforce the concrete blocks in the home's crawl space. Once the foundation pier has cured, our foundation experts will level the home in compliance to an independent structural engineer's specifications. Further, wooden beams may need to be replaced once the house is raised due to dry-rot or other factors.
Whether your pier and beam home has shifted just a few inches or in the worst case, over a foot, Pro-Tech Foundation Repair provides an affordable repair solution to your foundation problems. The most important aspect is to not ignore the problem signs of foundation failure and have one of our experts inspect your property with a free consultation.
Our pier and beam foundation repair services include the following areas: Dallas, Plano, Allen, McKinney, Frisco, Garland, Mesquite, Irving, Grand Prairie, Richardson, Carrolton, Rowlett, Rockwall, Wylie, Sachse, Cedar Hill, DeSoto, Lancaster, Red Oak, Seagoville, Combine, Crandall, Kaufman, Terrell, Addison, Highland Park, University Park, and Farmers Branch. If your city is not listed but is located in Dallas County, Collin County, Rockwall County, Kaufman County, or Denton County, feel free to contact us to schedule a free foundation repair estimate today.