Mudjacking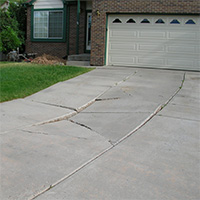 Mudjacking or "concrete leveling" is a method of pumping a specific mixture of Portland cement, water, and soil. The mixture or "slurry" is injected with high-pressure under a concrete slab foundations, uneven driveways, and unleveled sidewalks in order to lift it or fill voids created by foundation repair.
Mudjacking a foundation after it has been repaired is a permanent solution that fills voids sometimes created by lifting a house that has sunken due to foundation settlement. If the interior of your home has sunken or even bowed, interior foundation piers are typically installed to correct the movement. Once a home has been raised, it now is supported by piers and not the soil. Mudjacking is performed to fill the void and prevent further movement.
This process can also be used to fix falling sidewalks, sunken driveways, and uneven concrete stairs. Any unleveled concrete that has resulted from settlement can normally be repaired with mudjacking. The use of concrete leveling is a much better alternative to concrete replacement and has saved our customers thousands of dollars.
To complete a mudjacking service, small holes are drilled in the concrete or foundation slab and the slurry is then pumped under high pressure into the hole. The slurry quickly fills any gaps under the concrete or foundation slab. As the gaps are filled, the mixture becomes even more pressurized which causes the concrete to hydraulically raise to the necessary height of correction. Once the slurry has been injected, the hole is then grouted and smoothed into a seamless installation.
Pro-Tech Foundation Repair offers mudjacking service to all customers seeking concrete repair. We quickly correct cracked driveways, sunken sidewalks, broken curbs, and any other needed concrete repairs that can be corrected with mudjacking and concrete leveling.
Our mudjacking and concrete leveling team provides solutions and repairs in the following areas: Dallas, Plano, Allen, McKinney, Frisco, Garland, Mesquite, Irving, Grand Prairie, Richardson, Carrolton, Rowlett, Rockwall, Wylie, Sachse, Cedar Hill, DeSoto, Lancaster, Red Oak, Seagoville, Combine, Crandall, Kaufman, Terrell, Addison, Highland Park, University Park, and Farmers Branch. If your city is not listed but is located in Dallas County, Collin County, Rockwall County, Kaufman County, or Denton County, feel free to call or email us to schedule a free mudjacking estimate today.